Adron Phelan is a tribute owned by HeavyRotation who resides in District 5.
His district partner is Cabria Autumn.
Appearance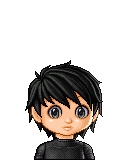 Adron is usually seen wearing a black jumpsuit. He has black hair and grey eyes. Adron is 17 years old.
Weapons, Skills, and Weaknesses
Weapons
He was trained, so he uses a variety of weapons, from throwing knives to swords to maces.
Skills
He's like a Career. He's ruthless and shows no mercy, so there's no problem killing anyone.
Weaknesses
He has never starved in his life since his parents are stinking rich.
Miscellanous
Personality
Mean, ruthless, doesn't mind killing.
History
Adron has been born under the lap of luxury. He has tortured and killed a lot of people, even the peacekeepers are terrified of him. His parents deny that he has killed anyone, even though he murders anyone who comes near his house. He volunteered.
Strategy
Rip off his district partner's head when he gets a chance before the games, and then kill KILL KILL. Join the careers and kill them all during the first night watch.
Quote
"Oh, I'm just going to cut off your head."
Token
A pencil.
Ad blocker interference detected!
Wikia is a free-to-use site that makes money from advertising. We have a modified experience for viewers using ad blockers

Wikia is not accessible if you've made further modifications. Remove the custom ad blocker rule(s) and the page will load as expected.