Info
District: 1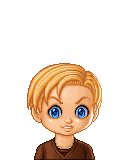 District Partner: Sparkle Cape or Yuri Ling or Bliss Creme
Age: 18
Weapons: Swords, maces, spears, knives, tridents.
Skills: Blake is good with most weapons (Except bow and arrows) and is strong tribute, he's great with close combat. Blake is a quick runner and is agile. Blake can swim and climb cliffs.
Strategy: Career pack, hunt down other tributes and kill them. Blake plans to seperate the Careers by saying they can cover more ground. Kill the person he's with and go back to the others saying they were attacked. Do this one more time and then kill the rest in their sleep.
Token: None
Weaknesses: Cocky, isn't all that great at lieing. Doesn't know how to be hungry.
Quote: None
Personality: Cocky, mean, cunning. Evil, slightly very annoying and stuck up.
History: Blake has trained all his life for the games and is sure he will win. Blake has no respect for Sparkle and plans on killing her first (With his special plan). Blake is rich and has a girlfriend named Christie. He's popular in school.
Games
Beetee19's 375th_Hunger_Games Placed: ??? out of 24. Summary: Blake helped search for other Careers on Day 1 before going off with fellow Career, Tiffany Case on Day 2. While alone together Blake betrayed Tiffany by stabbing her in the chest. On Day 3 Blake attempted to continue his pan and took Nicholas with him to hunt. While hunting the pair ran into the District 6 duo. Nicholas was killed early into the fight and in a fit of rage, Blake killed both from 6. Back at the Career camp fellow Career, Cholo, did not believe Blake (Who finaly confessed to killing Tiffany). But none the less, Cholo killed Blake with his mace saying,"You'll die an honest man."