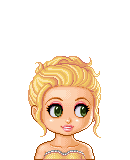 Bria Evans
Name: Bria Evans
Age: 16
Gender: Female
District: 4
Weapons: Trident
Strengths: Brute Strength, Running
Weaknesses: Tree Climbing, Stubborn
Backstory: Bria always has to have her way, and she will have a fit if she doesn't. Bria is a really bossy girl, and most people both dislike and respect her for that. She is confident and what she does and does not have any problems stepping on others' toes. She will do whatever it takes to win.
Personality: Bossy, Snotty, Mean, Leader
Fears: Being turned on by group
Token: Capsule with seawater
Ad blocker interference detected!
Wikia is a free-to-use site that makes money from advertising. We have a modified experience for viewers using ad blockers

Wikia is not accessible if you've made further modifications. Remove the custom ad blocker rule(s) and the page will load as expected.