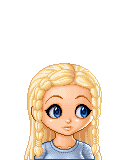 Cleo Welch was a tribute made by Jsm13athome, and sibling of the District 8 victor, Theodore Welch. She competed in the 200th Hunger Games by Cloveismywife.
200th Hunger Games
Along with her twin brother Theo, Cleo was reaped into the 200th Hunger Games. The two of them, Xavior Chance, and Forsythia Aljiscic, were all placed inside of a 10 x 10 x 10 box to fight until only one remains. Cleo tried to stay out of the action. Theo almost killed Forsythia, when Xavior tackled Theo. Forsythia and Cleo fought, but Forsythia choked her with a scarf. In the revived tribute battle, she was able to compete for life and one of four spots in the arena. Ian Wix killed her with a gunshot in the head, causing her to be the fifth death in the battle.
Mysims's Selection Games
Cleo was in the Selection Games with her brother again. There were districts 0 through 14 and the Capitol competing. There were sixteen boxes of four people, and half had to die to get in the arena. She was with Battleaxe Ridge, Kyla Chrome, and Scorpi Rex. She first killed Scorpi, and Battleaxe was preparing to kill either her or Kyla. Cleo put a knife in Kyla's head, and she and Battleaxe went to the arena.
Template
Name: Cleo Welch
Age: 13
District: 8
Gender: Female
Personality: Shy, Timid, Unless she's just talking with Theo
Weapons: Throwing Knives
Strengths: Using Cammouflage, Hunting
Weaknesses: Technology Use, Making Alliances
Backstory: Cleo lives in a small house with her brother, Theo, and mother. Their mother has been unemployed for a long time, and her father ran away when she was young. Her grandmother was relocated to District 6 because she had skills in engineering.
Ad blocker interference detected!
Wikia is a free-to-use site that makes money from advertising. We have a modified experience for viewers using ad blockers

Wikia is not accessible if you've made further modifications. Remove the custom ad blocker rule(s) and the page will load as expected.