Info
District: 3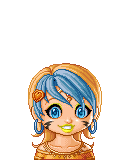 District Partner: Volt Down or Gauge Down
Age: 16
Weapons: Knife, snares.
Skills: Electra is extremly skilled in setting up snares and can use a knife in a fight. Electra is also a good hidder and knows basic survival skills. Electra can also climb trees and cliffs.
Strategy: Electra really doesn't have a strategy. She plans to ally with Volt or Gauge adn just listen to them. If her ally dies she won't really have a plan and will most likely die.
Token: Her heart shaped hair clip.
Weaknesses: Electra is not smart, she has no real plan and is a "follower". She doesn't notice things that are going on and that's why she'll trust Volt completly.
Quote: "I totaly agree what ever you want me to do"
Personality: Crazy, a little out there, wild, fun, different, doesn't care what anyone else thinks.
History: electra is an outcast. Dissed for her weird clothes, make-up, tattos and hair colors. Electra doesn't care though and kind of lives in her own little world. Electra is the smartest girl in ehr grade. Elctra's apretns are ashamed of her and that is the one thing that brings Elctra's happy spirit down.