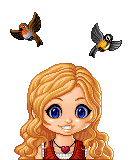 This tribute is owned by MoviePopcorn123. Holly Honey is one of my six signiture tributes. Her district partner was Fall Sky. After he won his son, Blue Sky. She is from district 10.
Information
Appearance: Blond hair blue eyes. Imagine the cutest thing possible now multbply the cutness by 20 and you still wont be as cute as her.
Personality: Very sweet and kind. She is so innocent and when she was reaped many people voluteered but she told them to stay and they did. She is too cute to deny.
Skills: Is able to tame any animal mutt or regular. She is great with traps and can do great with edible plants.
Strategy: tame an an good animal that can protect her, maybe a pack if she can. Then set up some traps and win (hopefully).
History: Grew up with a older brother who lost his leg in an tree accident and had to provide for him. She would set up traps around and collect the game. Once she saw a wolf up ahead of her so she tried something she told it to sit. Surprisingly, it did, so she learned about that talent and made some good friends such as a bluebird, baby black bear, and that first wolf.
Token: A picture of her brother.
Games
All the games that she is entered after now will be listed any games already started will not count.
Ad blocker interference detected!
Wikia is a free-to-use site that makes money from advertising. We have a modified experience for viewers using ad blockers

Wikia is not accessible if you've made further modifications. Remove the custom ad blocker rule(s) and the page will load as expected.