Info
District: 6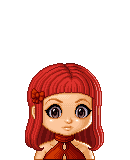 District Partner: Mac Williams
Age: 14
Weapons: Blowgun and darts, knife
Skills: Hope is agile, smart, and a good climber. She's also skilled at forming alliances at shortnotice. Hope can also use a blowgun and a knife in a fight and isn't afraid of getting her hands dirty.
Strategy: Try to form any alliance possible early on (expect pychopaths and Careers). Hide deep in the wilderness and avoid other tributes. If her party is a group of strong tributes, wage war against the Careers.
Token: None
Weaknesses: Isn't the best close combat fighter.
Quote: None
Personality: Self-confident, inspiring to others, gives hope... Smart, calm cool, colected. Likes to have fun.
History: Hope's life wasn't all that easy. She had to work in a factory that builds the engine to a hovercraft after her Dad died in an explusion. Hope has decent grades in schoo and has a few good friends. She has one older brother that died in the games.