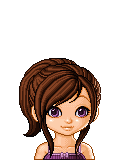 Kalita Jerona
Name: Kalita Jerona
Age: 15
Gender: Female
District: 3 (Also D1)
Weapons: Throwing Knives
Strengths: Intelligence, Running
Weaknesses: Brute Strength, Long-Range Combat
Backstory: Kalita was born into a family that didn't really care much about her. She was always desperate for attention, and when she didn't get it, she turned sour. Kalita looks very innocent, but she has a dark, evil side from years of neglect.
Personality: Quiet, Fake, Bipolar, Conniving
Fears: Dying in the bloodbath
Token: Piece of wire from home
Games
Participated In: The Nemesis Games
Author: Tiki Tooki
Final Placement: In Progress
Total Tributes: 28
Allies: None
Killed: Traviss Oak, Luna Snare, Elder Thorne
Killed by: (Luna Snare, later revived)
Description: Kalita was killed by Luna Snare during the one-on-one round of the Games and was revived. She survived alone and caused a huge explosion at the harbour by the weapon stockpile. The explosion killed three people, and she is currently recovering from the explosion herself.
Ad blocker interference detected!
Wikia is a free-to-use site that makes money from advertising. We have a modified experience for viewers using ad blockers

Wikia is not accessible if you've made further modifications. Remove the custom ad blocker rule(s) and the page will load as expected.