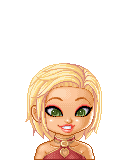 Lorelei Juno
Name: Lorelei Juno
Age: 16
Gender: Female
District: 1
Weapons: Knife, Spear
Strengths: Running, Climbing Trees
Weaknesses: Brute Strength, Hiding
Backstory: Lorelei is the oldest of three girls in her family. Her father died in a car accident, and she watched her mother die after being mauled by wolves. Lorelei supports her two younger sisters by working long hours and going to school. She knows that they cannot survive without her, and that she has to win the games for them.
Personality: Bubbly, Energetic, Outgoing, Positive
Fears: Wolves
Token: Locket with parents' photo
Ad blocker interference detected!
Wikia is a free-to-use site that makes money from advertising. We have a modified experience for viewers using ad blockers

Wikia is not accessible if you've made further modifications. Remove the custom ad blocker rule(s) and the page will load as expected.