Biography
District 12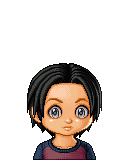 District Partner: Dallas Tinsle or Velma Ready
Age: 17
Weapons: Pick axe, explosives and his bare hands.
Skills: He can wield a pick axe, work explosives, he's pretty althletic and can run quick, fight good with hand-to-hand, wrestling and he's a good climber. He's also not afraid of nearly anything. He's calm and calculating in a fight. When he's angry, he kicks into over drive and fights incredibly. He is also a fast learner and in training will be able to learn sword play.

Strategy: During the Cornucopia bloodbath he'll make sure to kill a Career and then make camp where he can spy on them. Stalk the pack and pick them off one by one untill there's no more.
Token: None
Weaknesses: Doesn't have the best perosnality so he probably won't get sponsors and his obsession of killing Careers.
Personality: Hates everyone, negative, condeseding, smart, calculating and slightly evil. He also has a special hated for the Careers.

Quote: None
History: His family died of starvation when he was seven but he survived by thievery. Went into the mines early because he blackmailed the peacekeepers and the mayor. He voulenteered for the games because he hates Careers and wants to kill them because they get to live easy.
Ad blocker interference detected!
Wikia is a free-to-use site that makes money from advertising. We have a modified experience for viewers using ad blockers

Wikia is not accessible if you've made further modifications. Remove the custom ad blocker rule(s) and the page will load as expected.