Morgo Roserela
Name: Morgo Roserela
Age: 13
Gender: Male
District: Capitol
Weapon: Knife
Skills: Knives, Cooking
Weaknesses: Slow, Hand-to-Hand Combats
Appearance: Long white hair with orange eyes. A light pale skin. He hates how the other tributes are so poor and without fashion clothes.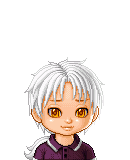 Backstory: He is a Games addicted. He loves how the non-Career tributes kill the others and how the Careers are killed. He uses his cooking skills to survive the Games without hunger.
Personality: Friend, Nice, Caring
Token: None.
Ad blocker interference detected!
Wikia is a free-to-use site that makes money from advertising. We have a modified experience for viewers using ad blockers

Wikia is not accessible if you've made further modifications. Remove the custom ad blocker rule(s) and the page will load as expected.