Info
District: 4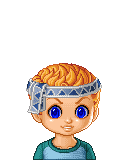 District Partner: Oceania Waves or Aquamarine Summerton
Age: 17
Weapons: Tridents, swords, nets, knife, spears.
Skills: Coming from District 4, River is skilled with a trident and net but River also took Career training, which taught him how to use a sword, knife and spear. River's strong and fast, so he excells at hand-to-hand combat.
Strategy: Career, try to kill others as much as he can. Run into battles headfirst. Fight to the death.
Token: His headband in the lunaii above.
Weaknesses: Idiot. He has no skills in planning or strategy so he will have to rely completly on Careers and its leader. He also doesn't know how to be hungry. Cocky.
Personality: Evil, dumb. Brave, cocky.
History: River has the classic Career life. He comes from a rich family were they gae him whatever he wanted. He went to training. River thinks he's so cool. He has a mom, dad and a older brother named Stream (19).