Sam Jones
District: 9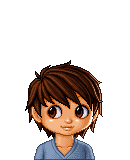 District Partner: Was Spring Howards' District partner before she became victor. Now his District partner is Mable Frost.
Age: 16
Weapon: Spear and knife.
Skills: Sam will learn how to wield a spear and knife in training. He's gooda t taiming, meaning he can throw knives and spears with good acceracy. Sam's a fsat runner and he's physicly fit.
Strategy: Get good stuff from the cornucopia and ally with a strong, but trustworthy, tribute. Kill his ally in their sleep near the end. If he is going to die, act brave and make it quick so Sammy is not co pletly wrecked.
Token: None
Weaknesses: Jabberjays, A little too trusting.
Quote: "I'll win this for you Sammy."
Persoanlity: Gernerous, caring, funny, wity, kind. Detirmined, strong, brave. History: Sam Jones was born to a middle class family in a small makeshift hospital in District 9. Sam grew up to be genorous, kind, caring, funny and cool. He was popular at school and always managed good grades. When he got a little sister (Sammy, 8) he became her favourite person in the world. He always found time to play with her and spend time with her. He always protected her and it broke her heart when he was reaped at age 16. Sammy would kill herself in Sam dies.
Games:
Tiki Tooki's 16th Hunger Games: He was strangled by his District partner, Spring Howards, on day 1, ending his hopes of victory.
Trivia
Angry birds12's sometimes calls Sam, "the most unlucky tribute ever" because he always dies early on.