Star Sun

District 4 Tribute
District 4 Victor
Information
Gender
Female
Age
13
Hair Color
Blue
Eye Color
Blue
Choice Weapon
Knife
Family
Mother, Pearl Sun (sister)
Games
Number of Games
3 (and 2 more after victory)
Best Ranking
1st (Tommyboy's 1st Games)
Typical Score
 ?
Star Sun is a tribute owned by Jabberjay78. She resides in District 4 (or on one occasion District 11). Her district partner is Scorpius Flame. She is Jabberjay's first victor.
Information
Skills: Swimming, Hiding, Knives
Weaknesses: Fighting, Killing (Very likely to die first)
Strategy: Wants to be a career, but will most likely be rejected because she is too young and not tough or ready to kill. Hiding is her backup plan.
Personality: Kind and Very Emotional
Family: Lives with mother and baby sister. She cried several times after the reaping, including during it, because she is afraid for her family and afraid to die.
Games
Tommyboy 97's 1st Games: 1st out of 24.
Allies with the careers, but quickly regrets her decision. She leaves them during the night on day three, but accidently kills her friend when trying to kill the head career. She is then kidnapped by
Spike Owens
. Along with
Twinkle Night
and Chiffon Leak, she escapes and heads to a citadel. Spike finds her and kills Chiffon, then accidenly makes the citadel collapse, killing himself and also Twinkle. Star arrives at the cornucopia showdown to see career tribute Gemma Stork kill Violet White, Katherine Storm, and her district partner, Scorpius Flame. Gemma is then killed by lava, leaving Star the only tribute alive.
Training Score: 6
Kenzen 11's Eleventh Hunger Games: 4th out of 24.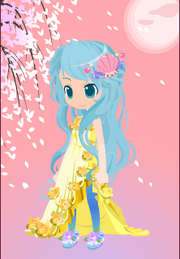 Manages to get in with the careers during the bloodbath. She is present at the murder of her district partner,
Scorpius Flame
, but hadn't met him prior to the reaping and therefore isn't too upset.
Mikhail 101's First Annual Games: 23rd out of 24
Killed by another tribute when her head is cut off by an axe.
Training Score: 11 (who knows why)
After Victory
Although Star had won her games, she was far from done with participating in them. She enjoyed two years of peace before returning to fighting the Capitol, in this case taking down armies of tribute zombies with fellow victor Nolt Ranfer. The following year, Star was kidnapped along with Nolt and released into the arena to be killed. However, they managed to escape yet again, along with Surf Blue and Dallas Tinsle from the actual games. She is expected to make an appearance in Tommyboy's 5th Games.
Trivia
Star Sun was Jabberjay78's first victor.

Interestingly the games she won, Tommyboy's 1st Games, were the first games that Jabberjay78 entered tributes in to be completed.
She was created to be Scorpius's partner so she would die in the bloodbath and Scorpius would live longer due to pity towards him. This makes it ironic that she would become Jabberjay's first victor.
Ad blocker interference detected!
Wikia is a free-to-use site that makes money from advertising. We have a modified experience for viewers using ad blockers

Wikia is not accessible if you've made further modifications. Remove the custom ad blocker rule(s) and the page will load as expected.