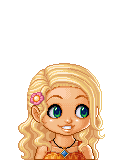 This tribute is owned by MoviePopcorn123. She is my district 4 tribute, her distirct partner is Cod Netts.
Information
Age: 17
Apperence: Blond hair, green eyes, average height. Kind of tan.
Personality: Not really a career, very sweet and funny. Doesn't really care about the hunger games.
Skills: Running, hiding, throwing tridents.
Weakness; Not too strong
Stratgey: don't join the careers try not to be found by them. Make allies with some one not from the career districts.
History: although she never trained she was a born athlet and could run very fast. Her job was spearing fish and so she grew apon spears and tridents. Her dad was ashamed of her and one night killed himself. Although she didn't show it she was very upset and plans to win for him.
Token: Moms flower pin
Games
Ad blocker interference detected!
Wikia is a free-to-use site that makes money from advertising. We have a modified experience for viewers using ad blockers

Wikia is not accessible if you've made further modifications. Remove the custom ad blocker rule(s) and the page will load as expected.