Stats
District 1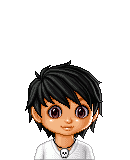 District Partner: Bliss Creme or Yuri Ling or Sparkle Cape
Age: 16
weapons: Swords, knives, spears, maces, axes, tridents, etc.
Skills: Great at all types of weapons from Career Training; swords, knives throwing/wielding, spears, maces, axes, tridents, etc., etc., really strong from weitghtlifting and a strict muscle training, super fast, smart, quiet, he also knows basic survial skills like fire making, plant identifacation, swimming, climbing and hunting/snares.
Stratagy: Join the Career pack, hunt down tributes. Be strong in the reapings, wow the gamemakers and act charismatic in the interviews. In the end, become victor Be really cautous around the others, ditching them if he senses a traitor and taking Bliss with him. Protect Bliss and kill himself for her.
Token: None
Weakness: Cocky, in love with Bliss
Quote: "Ready to die?"
History: He was born to a weathy family and began Career training at an early age. In knidergarden he met Bliss and they became good friends when he got older he started noticing how pretty Bliss was nad fell in love. He has a Mom, a Dad and one older brother who won another Hunger Games (John, now aged 22).
Personality: Brave, bold, charismatic, calm, doesn't loose his head. Kinda shy around Bliss.